More than thirty years after the proclaimed "end of history" and the third wave of demo­cratization, the world is once again marked by increased diversity in political regimes. The (re-)emergence of powerful autho­ritarian states like China and Russia and the trend of back­sliding in seemingly consolidated demo­cracies have created a more pluralistic and multipolar world, in which states with different political regime types increasingly view each other as competitors, seeking to prove the superiority of their own political and economic systems and to win the alle­giance of third countries.
Regime competition affects many contemporary political dynamics, often with a direct relevance for peace and conflict issues. It entails two distinct, yet interrelated understandings of "competition": one between powerful states and coalitions as a contest for international influence or even hegemony; and one regarding the performance of their respective political, economic and social systems, which undergirds claims to domestic legitimacy and international leadership among like-minded countries.
This blog series will explore both dimensions of regime competition and its many facets in more detail. It will feature contributions on issues like the origins and limits of recent Sino-Russian alignment, trends of decoupling and dissociation in East-West relations, strategic competition in Antarctica, a critical assessment of reform capacities across regime types in North Africa, regime-specific approaches to UN-agenda "Women, Peace and Security", challenges to liberal democracy from global neo-authoritarian movements and the securitization of regime types in Eastern European and post-Soviet countries.
Regimewettbewerb in einer fragmentierten Welt: Konsequenzen für Frieden und Konflikt
Mehr als dreißig Jahre nach dem ausgerufenen "Ende der Geschichte" und der dritten Welle der Demo­kratisierung ist die Welt wieder von einer größeren Vielfalt politischer Regime geprägt. Der (Wieder-)Aufstieg mächtiger autoritärer Staaten wie Chinas und Russlands und der Trend der Erosion scheinbar gefestigter Demo­kratien haben eine Welt geschaffen, die plura­listischer und multi­polarer ist, in der sich Staaten mit unter­schiedlichen politischen Regime­typen zunehmend als Kon­kurrenten betrachten, und alle Seiten versuchen, die Überlegen­heit ihrer jeweiligen poli­tischen und wirtschaft­lichen Systeme zu beweisen und die Gefolg­schaft von Drittländern zu gewinnen.
Regimewettbewerb wirkt sich auf viele aktuelle politische Entwicklungen aus, oft mit direkter Relevanz für Friedens- und Konfliktthemen. Hierbei lassen sich zwei Arten von Wettbewerb unterscheiden, die aber durchaus in Verbindung stehen: erstens der Wettbewerb zwischen mächtigen Staaten und Koalitionen als Ringen um internationalen Einfluss oder sogar Hegemonie; und zweitens der Wettbewerb hinsichtlich der Performanz der jeweiligen politischen, wirtschaftlichen und gesellschaftlichen Systeme, die Ansprüche auf innerstaatliche Legitimität und internationale Führung unter ähnlich gesinnten Ländern untermauert.
Diese Blogserie wird beide Dimensionen von Regimewettbewerb und seine vielfältigen Facetten im Detail beleuchten, u.a. die Ursprünge und Grenzen der chinesisch-russischen Partnerschaft, Entflechtung und Dissoziation in den Ost-West-Beziehungen, den strategischen Wettbewerb in der Antarktis, eine kritische Analyse von Reformkapazitäten verschiedener Regimetypen in Nordafrika, regimespezifische Ansätze in Bezug auf die Agenda "Frauen, Frieden und Sicherheit" der Vereinten Nationen, die Infragestellung liberaler Demokratie durch globale neo-autoritäre Bewegungen sowie die Versicherheitlichung von Regimetypen in Osteuropa und post-sowjetischen Ländern.
---
Photo: Katerina Pavlyuchkova via Unsplash (personal editing) // Banner: GDJ via pixabay (personal editing)
---
Beiträge // Posts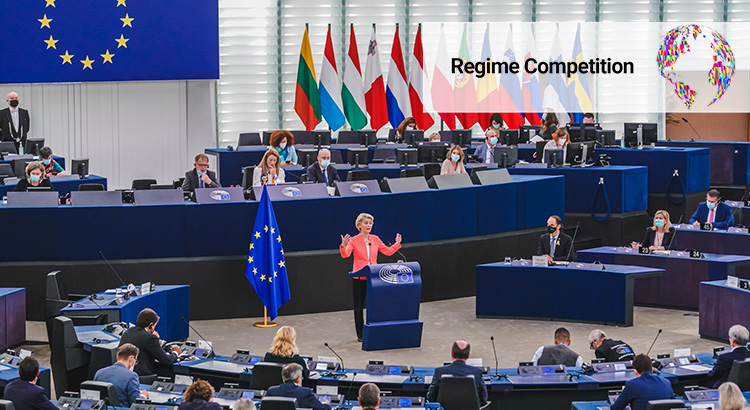 The ways in which foreign interference by China, Russia and others are currently discussed in Brussels indicate that the EU is considering moving away from liberal principles in the area of international civil society support and the foreign funding of NGOs in particular. Based ...